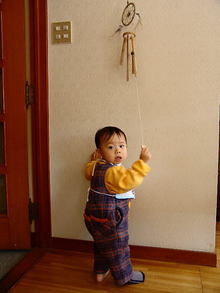 Last year, a couple from Oklahoma in the United states stayed at our Pension on December 1st.
And this time we were very surprised that we got the present with some cards and photo from them by mail.
This is a "Dream Catcher" which made by the Cherokee Nation Native Indians.
According to several native american tribes, Dream Catchers are believed to trap the evil which is floating around in the air, much like a spider's web snares everything in its path.
These our guest stayed at our Pension for only 1 ngiht, but they said in their letter,
"Thank you for being more than the perfect host, for also becoming our friends." or "Had to thank you for your wonderful hospitality."
We appreciated it very much and it is also our plesure.
Thank you very much, Doctor and Madam.