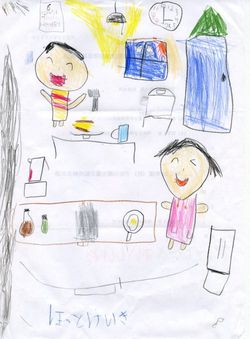 In these days it has been cloudy and sometimes rainy here in Shimoda.
It can't be helped because now we are in the rainy season in Japan.
If we don't have rain in this season vegetable and rice will not be glown well.
So the rain is very important for the plants and us.
By the way I show you the pictures which my children drew.
The first one is drawn by my son, Yuuki, the day before yesterday.
He is interested in drawing picutre basically, and he is getting better day by day.
This time he drew the scene which he and his sister were having the hotcakes in the kitchen.
There are hotcakes on the table, window, clock, calender, fridge, thermos and etc...
I show you the next one....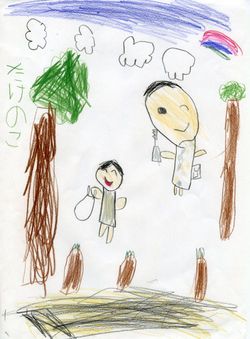 Today my son and I went to the bamboo forest around our house.
There are a lot of babloo trees in the forest and we can get bamboo shoots in this season.
In Japan we have many kinds of bamboo and the most famous one is sold at the shop in April.
But here in Shimoda we can get the different kind of bamboo in every June.
When we got into the forest we found out many small halls here and there.
These halls were dug by wild boas.
Yes, they come to the nearest forest to get the bamboo shoots to eat. They don't have enough foods in the mountains.
Anyway my son and I could get more than 10 bamboo shoots today, and he draw the picture about that this afternoon.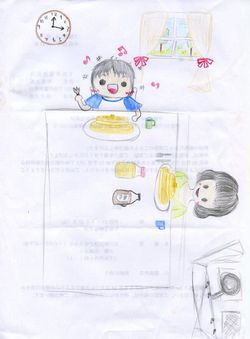 The last one is drawn by my son't sister.
She drew this picture when my son was drowing his 1st one the day before yesterday.
So they are having hotcakes in this picture.
My daughter loves drawing picture too.
And her pictures are very cute!!
I think the pictures of my son and daughter are full of expression of the children's faces.
I feel that their pictures have a lot of happiness.
Good job, guys!!