When we went shopping to Shimoda, we went to "Shimoda Nesugatayama Ropeway" with my wife, my daughter and my son.
In Japan we, Japanese, call a Cable car "Ropeway".
There is a ropeway station in front of Shimoda train staion.
And it takes only 3 minutes and half to the top of mountain.....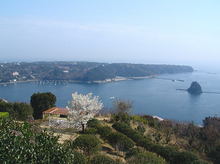 We have been there many times until now, but it was first time for my son, Yuuki.
When we went up to the top he was very excited.
It was sunny today, so we could see a beautiful view of Shimoda town and Shimoda bay.
Actually we can see Izu seven islands from here, but we couldn't.
Because the air was not clear today.
On the top of mountain there are some obsevatory.
After one of them we went a park which we can see a lot of kinds of flowers.
The flowers are very beautiful under the sunshine.
My son, Yuuki, was going to pick a flower up.
"Don't do that, Yuuki !" I said.
Recently he loves flowers and he wants to pick it up soon when he find.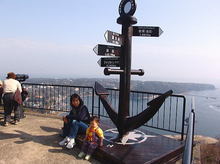 After walking for a while we found the other obsevatory.
There was a new sign that we haven't ever seen before at this place.
These signs says "Tokyo 133.7km", "Mr. Fuji 67.3km", "Taipei 1,991km" and "New York 10,988km".
Those were very interesting.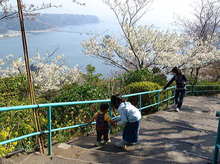 We were there for about 1 hour.
We could see full cherry blossoms and spend a good time.
Would you like to see more pictures and get more informations of this ?