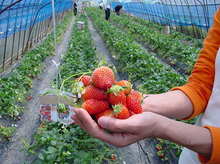 In spring, we, Japanese have many imagination about it, but one of them is "Strawberry".
In Izu peninsula there are some places where we can pick strawberrys to eat in a farm.
But the nearest place is Minami Izu, "South area of Izu", about 30 minutes by car from Shirahama.
We have ever been there for 2 times until now, I'm going to show you some pictures that I took there from my computer.....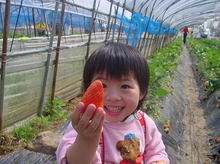 I took this picture in 2001.
In those days my daughter, Hikari, was 3 years old.
As she loved strawberry very much she ate a lot of strawberrys.
It was a great time for her, I think.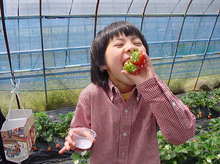 This picture was taken in 2003 at same farm.
She, Akari was 7 years old, second grade of primary school.
She was eating 3 strawberrys, but I remember that I asked her to do it to take a picture.
By the way when we went there for the 1st time there were some strawberry farms, but there were only 2 farms at the 2nd time we went.
Recently Japanese young people don't want to get a job as a farmer and continue their farm. That's why there are only 2 strawberry farms in Minami Izu, Japanese coutry side.
This year these two farms will be take a place until Golden Week.
The price would be 800 yen per adult for an hour, and 400 yen per child on April.
If you come to Izu peninsula, why don't you go to South area ?
There are many spots that you can get great experiences except strawberry!
Come and stay at Pension Sakuraya. We will be able to get you more information about this Strawberry picking farm.
Pension Sakuraya: A family running guesthouse in Shirahama, Shimoda