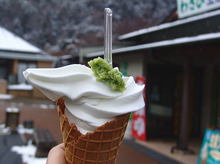 Have you ever eaten this ice cream ?
When I went to Amagi I found this "Wasabi Soft Cream" at "Michi no eki" which is one of Rest areas.
Recently we can see and eat Wasabi ice cream at many places in Japan, and most of them is mixed with Wasabi.
But they provide it topping Wasabi on the top of vanilla soft cream.
Yes, it was really fantastic and lovely taste !!......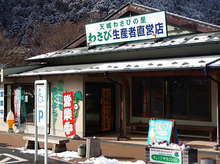 On the way to Shuzenji from Shimoda, we can find this rest area after Amagi tunnel.
And this is a Wasabi shop, "Amagi Wasabi no Sato", in this area, where we can eat it.
After ordering Wasabi soft cream they started to grate a Wasabi with metal grater (Oroshigane) soon and put it on soft cream in front of me.
It was a first time for me to try it, but as spicy and sweet taste are mixed in my mouth I was please with it.
This is a entrance of this rest area.
If you have an opportunity to go to Amagi please try Wasabi soft cream !!