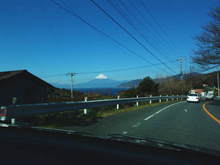 Today my wife had to do her job, so I had to be a baby sitter of my son, Yuuki.
I was thinking where we go.
As we had a strong wind I thought that we might be able to see Mt. Fuji from the west side of Izu peninsula today.
I reseached it in the web camera site ..... Bingo !!
So I desided to go to see Mt. Fuji with my son !!
When I was driving on the way of West Izu I could see Mt. Fuji, I was very excited !!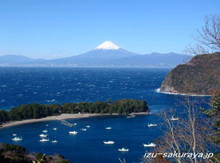 How do you like this ?
It's really beautiful, right ?
I took this picture on a hill near "Heda" village.
As we had a strong wind we could see Mt. Fuji clearly.
And I started to go toward the northern area.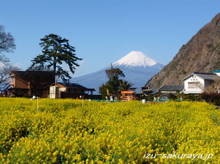 I arrived at my today's destination, "Ida", a small village in Numazu city.
This place is in the most nothern area of Izu peninsula.
It is just 80 km from Sakuraya in Shirahama, and it took about 1 hour and 40 minutes by car.
There is a rape blossoms field, and I had wanted to go this place but I did't have an opotunity. (I had forgotten it, in another word.)
This was a very beautiful scenary with rape blossoms and Mt. Fuji here.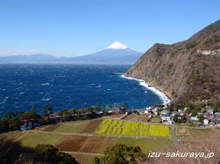 This is a pnoramic view of Ida village and Mt. Fuji.
There is a Japanese charactor of "Ida" in the middle of rape blossoms field, but could you see that ?
By the way we actually had very strong wind in western side of Izu.
I couldn't stand alone in this wind like a typhoon.
But it was fantastic driving today !!