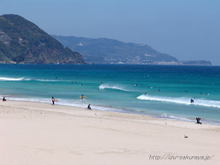 Last night the weather forcast said, "It will be alomost cloudy and sometimes rainny."
However today's Shirahama had a very beautiful and gorgeous sea.
Don't you think that it seemed like a beach in Okinawa ?
As it was very hot I put on only shirt at last.
Yes, I could already feel a summer would be coming.
Every GW a lot of people come to this beach to swim, but they will be able to do it this year too!!