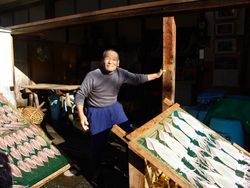 This morning I took my daughter to the school and went to Shimoda downtown after thatn.
When I was driving in downtown I found out the dried fishes out of shop on the road.
I asked him to take pictures, and he told me that he waked up at 2:00 am every day.
"Every day?"
I said and he answered.
"Yes, because I have to start to make dried fishes to provide them to the travellers before noon."
"Really?"......
After that he told me a lot of things about Shimoda long time ago while I was taking pictures.
About 50 years ago a lot of fisherman's boats used to come to Shimoda bay and the river used to be full of them.
"we could go across the river by walking on the boats from this side to the other side then!"
"Wao, it's amazing!"
It was very good time for me this morning.
Thank you, man!
I took the 2nd photo 4 years ago at Shimoda port. My son was 3 years old.
Click here to see the other photos which I took this morning.