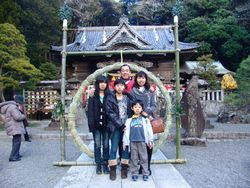 This afternoon I went to Shirahama shrine with my family.
It was a first vist of this year for us.
We, Japanese visit shrine at the beginning of new year to pray our health and happiness.
As we are in the new year holiday there were a lot of people there.
Click here to see the picture which I took today.
Pension Sakuraya in Shimoda, Japan