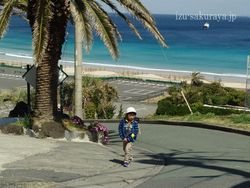 Today it was a first day of new school year.
My son finished classes at 11:00AM, so I went to pick him up.
On the way home I took this picture.
My children go to school on this road everyday looking over the blue sea like this.
They are very happy, and we have to appreciate that we can live here, a beautiful place in Shimoda.
Kids friendly accommodation: Pension Sakuraya in Shimoda, Japan