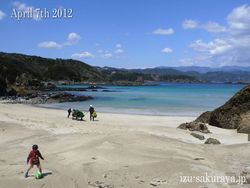 Today it was sunny and very warm here in Shimoda again.
As my son had a holiday today we went to Kujuppama beach, 15 minutes driving from Pension Sakuraya.
This beach is good for swimming and snorkeling, so it's very crowded in summer.
We put short pants to get into the water today, but it was still very cold.
I posted 13 photos and 2 videos, this and this, which I took today.
4 minutes walking to the nearest beach "Shirahama" Pension Sakuraya in Shimoda