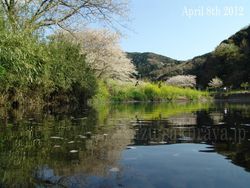 I went to Matsuzaki town to see Sakura blooming with my wife and son this afternoon.
There is a river called "Nakagawa" in Matsuzaki town, and there are more than 1,200 Sakura trees on the riverside of 6 kirometers.
In addition, there is a big field of flowers.
We could feel Spring has come there today.
Click here to see the photos which I took today.
And click here to see the video which was taken on the riverside driving.

Kids friendly guest house "Pension Sakuraya" in Shimoda, Japan