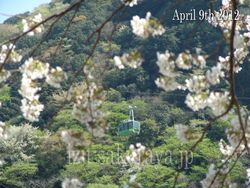 The TV show said it was 23*C or over in this afternoon in Tokyo.
Here in Shimoda it's also getting warmer day by day.
When I was driving it was too hot inside, so I opened the window.
By the way, I took this picture on the riverside near Shimoda train station in this afternoon.
There is a cable car going up to the top of mountain, surrounded by Sakura trees and fresh green leaves.
In this season a lot of flowers start blooming on the top.
Let's try and go to the top by cablecar!
Here is an information of Shimoda cablecar.
Pension Sakuraya: 4 minutes walking to the nearest beach "Shirahama" in Shimoda, Japan