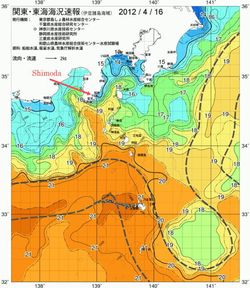 About 10 days ago it was 14 degrees, but I found out that it is now 16 or 17 degrees!
This is a map of the water temperature of the pacific ocean.
In this season the water temperature is getting warmer day after day.
In addition, the air temperature is also getting warmer, of course.
During Golden Week we can see a lot of people swimming in Shimoda.
Please don't foget the swim wear if you come to Shimoda from this season!!
4 minutes walking to the nearest beach "Shirahama" Pension Sakuraya in Shimoda, Japan