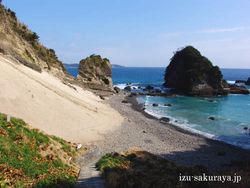 Today it was sunny and very warm in Shimoda.
Then I decided to go to Shimoda downtown by bike.
First of all I didn't decide where I go after that, but I dexided to go to south part of Izu peninsula.
After Shimoda downtown I went the Kisami Beach, and arrived at the Touji Beach.
This place Touji is very famous for this cliff.
It is called Sand Saki, and there is a secret cave called "Ryuuguu-kutsu".
It's very interesting place.
After that I went to the Yumigahama Beach.
In summere a lot of people come to this beach for swimming, but there were only some people there today.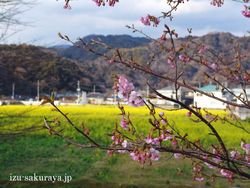 And arrived at Minami Izu town.
In this area Sakura festa 2011 is taking place.
There are more than 800 Kawazu Sakura trees along the river which is called Aono-gawa.
And here is a field of rape blossoms.
Some of Sakura are blooming 20%, but most of all have just started to bloom.
But there were a lot of people and cars, and I saw a lot of big buses for tourist.