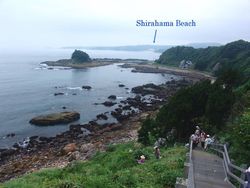 This place is "Aloe no Sato", Aloe Field in Shirahama in Shimoda.
There is a walking path and stair cases, and actually we can see the Izu Seven Islands on the pacific ocean from the top of slope, but we couldn't see them today.
There are a lot of Aloe trees on seaside and steep slope, and we have the Aloe festival here on december and January.
Today I went to this place to mow the grasses as a member of Shirahama Tourist Association.
In this season the Aloe trees are covered by tall grasses and they can't get sulight.