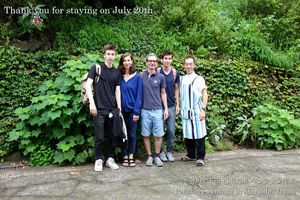 They came from France and stayed at Pension Sakuraya for 2 nights.

Before coming to Shimoda they went to Kyoto, Hida-Takayama and many places.

When they checked in she told me that her colleague who stayed at Sakuraya last year recommended our Pension.
We are really appreciated to hear that!

But unfortunately it had been rainy during their stay and they could not go to the beach under the sun.

We are very sorry about that....

We hope you will be able to come to Japan and Shimoda under the sun in the future.

Thank you very much for staying with us.